Beyond the Basics with Graphic Facilitation
Graphic Facilitation Workshop in Portland, Oregon
The graphic facilitation and graphic field is booming – are you getting the work you want?
Sophia Liang and Sam Bradd designed this course to teach what they wish someone had taught them when they started out as graphic facilitators.
Experts say, in order to scale or grow your business, practitioners need to do two things:  be better, or be different. We'll help you explore what expanding and diversifying your offering looks like for you. We'll also offer models and tools for deepening your practice. And throughout, we'll share how we got paid to do the work we love.
Beyond the Basics: Graphic Facilitation Workshop for practitioners with 2+ years experience with Sophia Liang and Sam Bradd returns, this time in Portland, Oregon in February 2018.
Designed for visual practitioners with a firm grasp on fundamentals, and a desire to stretch your potential. This fast-paced and participatory workshop includes two days of training and an evening opening session.
Every workshop is customized to meet participants' goals. We'll use storytelling, presentations, hands-on practice, group dialogue, and peer learning environment.
Passionate about continuous improvement and learning, Sophia and Sam bring facilitation techniques, a balance of theory and practice, years of business experience, and new visual tools to take your career to the next level.
Dates: Sunday, February 11th; Monday, February 12th; and Tuesday, February 13th, 2018
Times: (Sun) 5:00 PM – 9:00 PM; (Mon-Tues) 8:00 AM – 5:00 PM
Opening Session details:  We're having dinner together on Sunday evening to open the workshop. It will be an opportunity to connect with the instructors, meet other visual practitioners, and share any questions. Then we dive right into training on Monday and Tuesday!
Where: The Ace Hotel, Portland, Oregon
Why: To amplify your visual impact and lift your business to the next level!
---
Delivery Team
Last time, Sophia Liang and Sam Bradd teamed up to teach in Georgia, USA at the International Forum of Visual Practitioners. Don't miss this opportunity to lift your visual practice and business to the next level.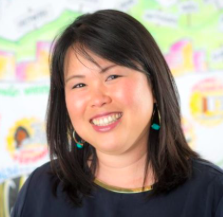 Hi! I'm Sophia Liang, the owner of Graphic Footprints a graphic recording and facilitation company in Los Angeles, California.
I'm passionate about people and enabling sustainable communications within teams and inside organizations by utilizing the power of visual communication. I have an extensive background in designing experiential learning events with a focus on creating moments that matter.
I've been fortunate to work with amazing clients, including Fortune 500 companies such as Walt Disney Imagineering, Dolby Labs, Google, and Genentech, as well as both not-for-profit organizations and government agencies. I am a part of The Grove Consulting associate network (one of the original graphic facilitation firms, based in San Francisco, California) and have a Bachelor of Arts from University of California, Berkley. I have taught multiple graphic recording/facilitation workshops at the International Forum of Visual Practitioners and International Association of Facilitators annual conferences over the past years.
When I'm not traveling for work, I enjoy salsa and west coast swing dancing, and cooking in my home in Los Angeles.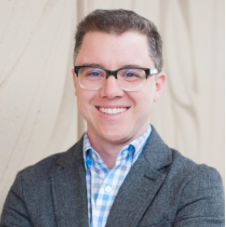 Hi, I'm Sam Bradd. I'm a graphic facilitator and specialist in information design. I use visuals to help groups be better at what they do. In the last 15 years, I've traveled the globe collaborating with the World Health Organization, Fortune 500 companies, Google, and Indigenous organizations.
I specialize in turning dense information into images: visual strategic planning, graphic recording, infographics, knowledge translation, and engagement.I'm the editor of two new books: Drawn Together Through Visual Practice (2016) and Graphic History Collective. My formal education includes a Masters in Education (University of British Columbia), a Bachelor of Arts (Simon Fraser University), facilitation training, and courses in design, human rights monitoring and Indigenous cultural competency. In the community, I'm an active member of the International Forum of Visual Practitioners.
---
Receive a 5% discount on the Towards Mastery Workshop when you register for Kelvy Bird and Alfredo Carlo's "Visual Practice" workshop at the same time. Contact hello@drawingchange.com for details. 
Kelvy Bird and Alfredo Carlo will be teaching a Visual Practice Workshop at the same venue, February 14 – 17, 2018. The "art of scribing" is taught to bridge the ecological, social, and spiritual divides we experience in our world today. Join us the same week in the same venue. We will be coordinating so participants can attend both workshops. If you sign up for The Visual Practice Workshop as well as Towards Mastery, you will receive a 5% discount on Towards Mastery. (PS: Sam and Sophia are attending this workshop!)
The registration fee includes: supplies, course materials, lunch and two snack breaks each day. Breakfasts and dinners would be self-organized. Participants are also responsible for their own transportation and hotel accomodations.
Refund Policy
The amount paid minus a $350 processing fee will be refunded for all cancellations received in writing before January 14, 2018. No refunds will be granted for cancellations received after that time, but registrations can be transferred to other participants at no additional cost.
More questions?
For more information, contact Sam at hello@drawingchange.com.